It still feels like yesterday when we witnessed the Turkish Lira's weakening over the summer period in an almost unprecedented meltdown affecting the Turkish economy. Yet, merely two weeks into 2019 and there is plenty of reason for optimism.
On the one hand, the Turkish currency has slightly recovered from its darkest phase when it traded almost 8 Lira against the Euro. On the other hand, the country booked its fourth straight month with a current account surplus in November last year. While the same period in 2017 saw a deficit of $4.2 billion, the following year recorded a $986 million surplus. When excluding energy and gold, the surplus even jumps to $4.5 billion, compelling evidence for the country's strong dependence on external energy supplies.
Nevertheless, by the year 2030, Turkey might penetrate waters of the top 5 economies of the world. According to Standard Chartered Plc's long-term forecast, the country might do so by overtaking powerhouses like Germany, Russia and Japan. Forecasters apply the purchasing power parity (PPP) exchange rates and nominal GDP metrics to predict the future table.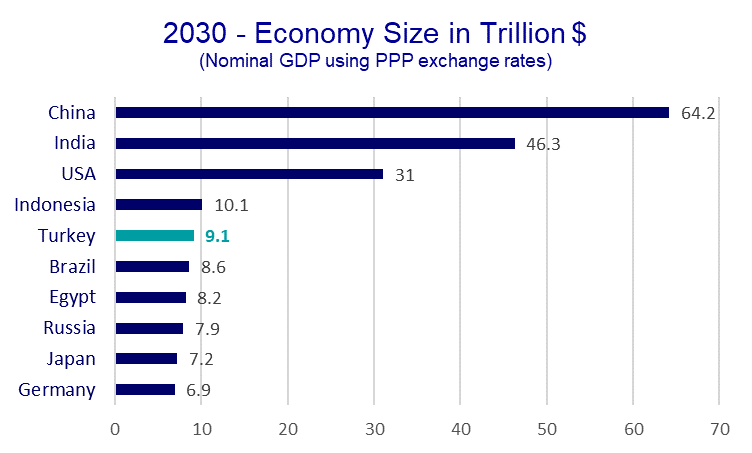 Source: Standard Chartered Plc
This forecast stands in stark contrast to current figures. In fact, in 2018 Turkey only ranks 18th with less than $1 trillion in economic size.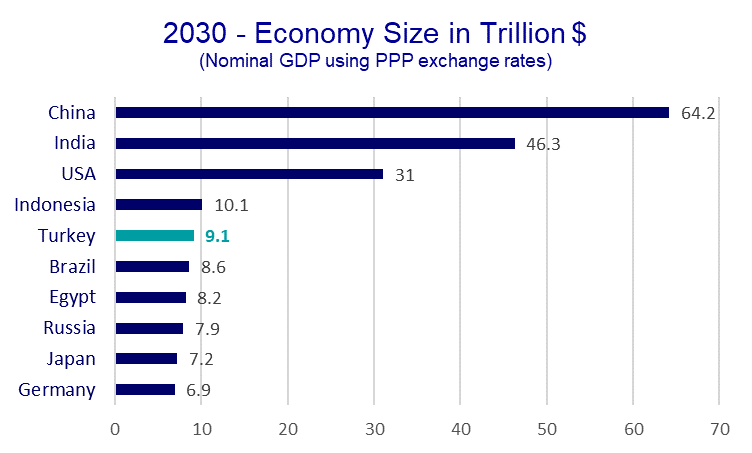 Source: International Monetary Fund (IMF)
The tables speak for themselves. The clear winners in the 2030 forecast are emerging market economies, led by China with a wide margin, then followed by India, Indonesia and Turkey. In fact, Asia's share of the world economy, according to this Standard Chartered Plc's report, is likely to reach 35% in 2030, compared to only 2% in 2010.
One of the key drivers for these developments, so argue experts, is the young population and labor force in emerging markets. Apart from favorable demographics, increasing urbanization and quality of education further fuel the positive trend.
While these predictions might only represent one possible scenario, Turkey is active on numerous frontiers. Since its new economic program's inception in September 2018, Turkish leadership has worked towards tighter fiscal discipline and eradication of structural weaknesses.
In addition, together with 13 banks, Ankara has recently announced to provide TL 20 billion ($3.7 billion) in loan packages for SMEs. According to Treasury and Finance Minister Albayrak, an estimated 20,000-40,000 enterprises might become beneficiaries of the resolution.
However, the challenges remain manifold, with budget discipline, curbing inflation and unemployment just some of the main ones. It remains to be seen how the business community perceives these incentives and how they will translate into reality. As is well known, you can drag the horse to the water, but you cannot force it to drink.
Furkan Ağan
Furkan focuses on research and business development in the Eurasian region to develop and provide effective cross-border strategies.
Furkan Ağan
Furkan focuses on research and business development in the Eurasian region to develop and provide effective cross-border strategies.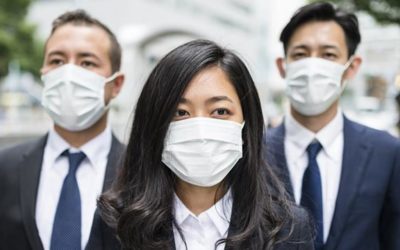 How can leaders build workforce resilience when the world goes back to a new normal? And how can they manage employee anxieties?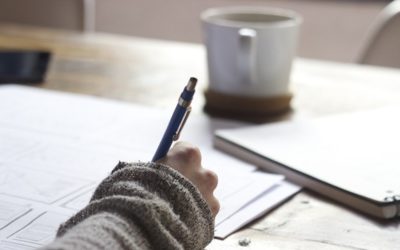 What did you learn from 2019 – and how to slide into 2020.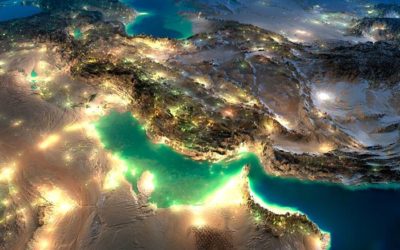 What geopolitical shifts are happening from China to West Asia and Europe? And what future opportunities exist in Eurasia?
Sign up to receive the Eunepa Quarterly.