How to Create a Learning Culture as Your Competitive Advantage
11 Jun 2019 | Organizations & Leadership

The digital revolution is rapidly transforming the way we work and live. Among the trends we are seeing are an agile and quickly evolving environment, continued digitalization, and the emergence of more AI solutions.
How can organizations stay relevant in such a world?
Not only in terms of where businesses are heading, but also in how they manage and grow human capital – because ultimately, this is the key variable. The right talent can create, execute and lead the right solutions. And as digitalization continues, attracting and retaining the best talent will be essential.
The shifting demographic sets new requirements
When looking at the future of human capital, millennials – and by extension generation Z – stand full center. Forecasts show that by 2025, about 75% of the global workforce will consist of millennials. And their needs differ greatly from prior generations.
Based on Gallup's report How Millennials want to work and live, trends show millennials look for meaningful work, are more interested in their development and growth, and look to be mentored and coached. And not without reason. With accelerated change, technology alone is not enough. Skills need to be updated continuously.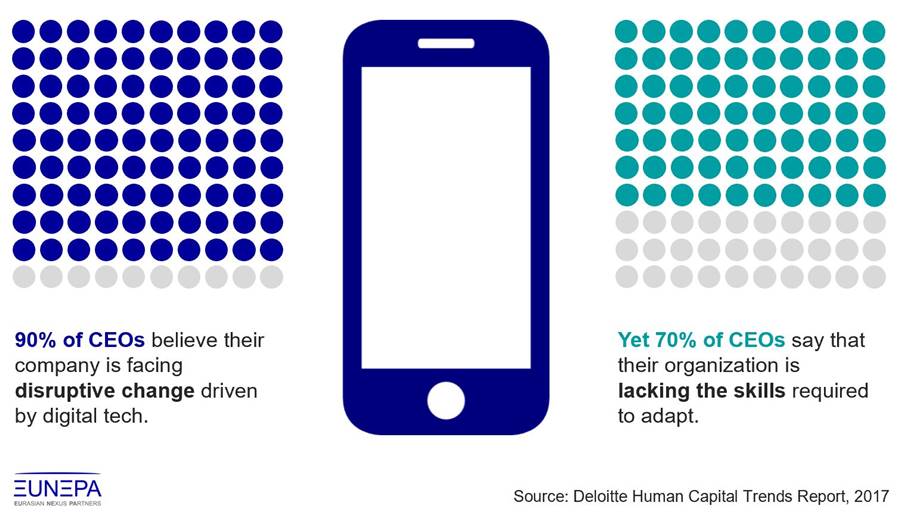 Naturally, this puts more pressure on organizations. How can they create an environment for growth and development?
Many still view training and learning as a nice-to-have, or I-wish-I had-that-kind-of-time-on-my-hands attitude. But training and learning are more than just building skills and knowledge. They empower employees to perform better, which provides value back to the company. There is a famous cartoon strip in which person A says, "What if we train our employees and they leave?" Person B replies, "What if we don't, and they stay?"
As the workforce becomes more skilled, they become more productive and motivated to perform and compete.
Companies that invest in training and learning report higher retention rates, which has a direct impact on ROI and growth. As the workforce becomes more skilled, they become more productive and motivated to perform and compete.
How to create a learning culture
"The single biggest driver of business impact is the strength of an organization's learning culture," Josh Bersin writes in Bersin by Deloitte (2013). But what makes a learning culture strong?
Studies show that while companies invest a lot in learning, learning outcomes don't always translate into better performance. The main reason is that learning is often treated as a one-off activity, when instead it should be continuous.
Bersin by Deloitte describes 4 E's that are part of continuous learning.
Education: Traditional learning and development focus on education through formal training, but today we need to shift resources to also include experience, exposure and the environment.
Experience: Organizations need to create learning and development experiences such as stretch goals, job rotations, shadowing, and on-the-job training. These experiences present hands-on opportunities to go beyond theory and help employees learn from one another.
Exposure: Exposure includes formal or informal mentoring and coaching, building personal networks of peers, and joining social networks. An example could be utilizing coaches to help employees grow by maximizing self-awareness and skills to find own solutions to challenges and situations. The role of the coach is to ask powerful questions, foster self-reflection and unlock potential in the coachee.
Environment: The environment provides tools and performance support to enable employees to continue learning on the job and in their life. Today there are so many online resources and tools available, the organization can provide relevant tools to create the right environment.
Building a strong learning culture through continuous learning helps employees remain engaged and allows them to be responsible for their own development, rather than being dependent on their manager.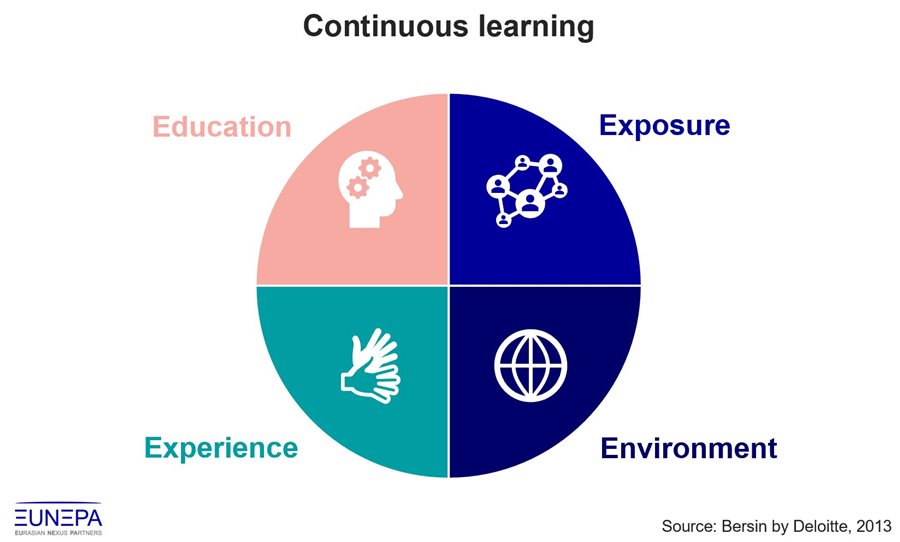 Steps to create a learning culture
Make sure top management is seen as role models in learning.
Show vulnerability and discuss learning from failures.
Set up an environment where people can share what they learn with one another, e.g. learning circles.
Hold a townhall for learning and get employee perspectives on how and what to learn. Align learning with business plans and performance goals.
Discuss barriers to learning and potential solutions.
Integrate learning into daily operations.
Select accountability champions for bigger learning projects.
Bring in external coaches or develop internal mentors and coaches to make sure new knowledge results in new skills and behaviors.
Bring in experts to share knowledge on relevant topics.
Measure the effectiveness of learning and progress.
Reward employees for learning.
Make sure no employee is left behind. Learning is not age-, gender- or job-specific. Everyone can be a teacher, everyone can be a learner.
And finally, have fun with learning. Be creative with what needs to be learnt. Think also of well-being learning for employees, something that will help them both professionally and personally.
Ultimately, the digital revolution together with a workforce demographic shift present a fantastic opportunity to build a strong and healthy learning culture, which fosters talent and creates a source of sustainable competitive advantage. The result will be a team fit to adapt to any change, anytime.
Are you interested in having a conversation on how to create a learning culture in your company? Get in touch!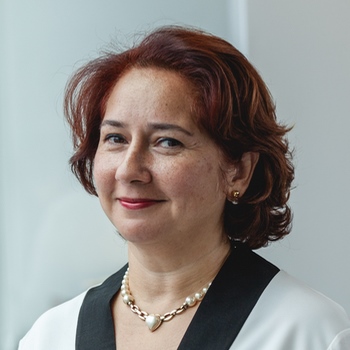 Dr. Pari Namazie | Managing Partner
Pari is a coach, consultant and facilitator and has over 25 years of experience as an intercultural, HR and organizational improvement consultant to multinational and international companies. 
Read more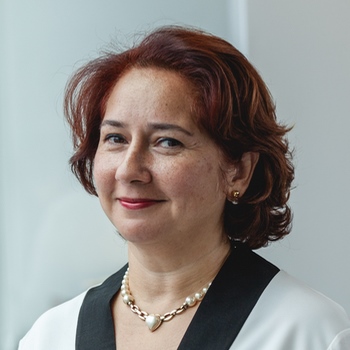 Dr. Pari Namazie
Pari is a coach, consultant and facilitator and has over 25 years of experience as an intercultural, HR and organizational improvement consultant to multinational and international companies. Read more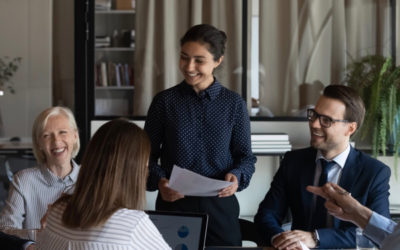 Implementing any strategy or goals begins by sharing it with your team members, who will be the people executing it — this means it begins by creating team alignment.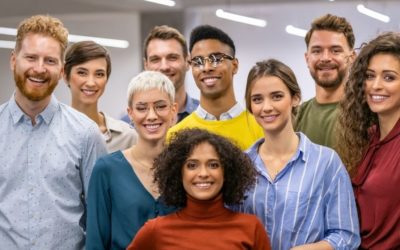 What makes you attractive enough to the next generation of employees? Here are 7 best practices to attract and retain the new generation.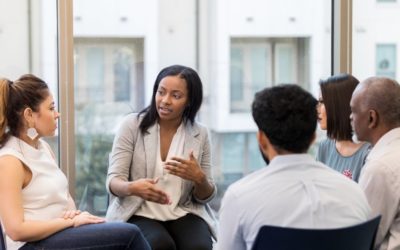 In times of conflict, what stand do you need to take as a leader? Do you need to take a stand? What can leaders do to start a constructive conversation?
Sign up to receive the Eunepa Quarterly.