Top Skills for the Future & How to Learn Them to Prepare Your Workforce

What are the top 10 skills for the future? This guide covers trends companies are implementing, what leaders should do beyond online learning, what managers can do to foster a growth mindset, and what employees can do to learn even without company learning.
As leaders and companies try to predict the impacts of COVID-19 on their workforce and workplaces in the coming years, they face multiple questions: Which jobs will be made redundant or automated, and which ones will emerge? What are the skills for the future? How can you upskill and reskill the workforce? 
A recent study by the World Economic Forum shows that while we might imagine technology skills as the top priority, we will actually continue to see a gap in more cognitive skills. As jobs change in the next five years, the top skills in demand will include problem-solving skills — such as critical thinking, complex problem-solving, creativity and initiative — as well as self-management skills — such as active learning, resilience, stress tolerance and flexibility.
The top 10 skills for the future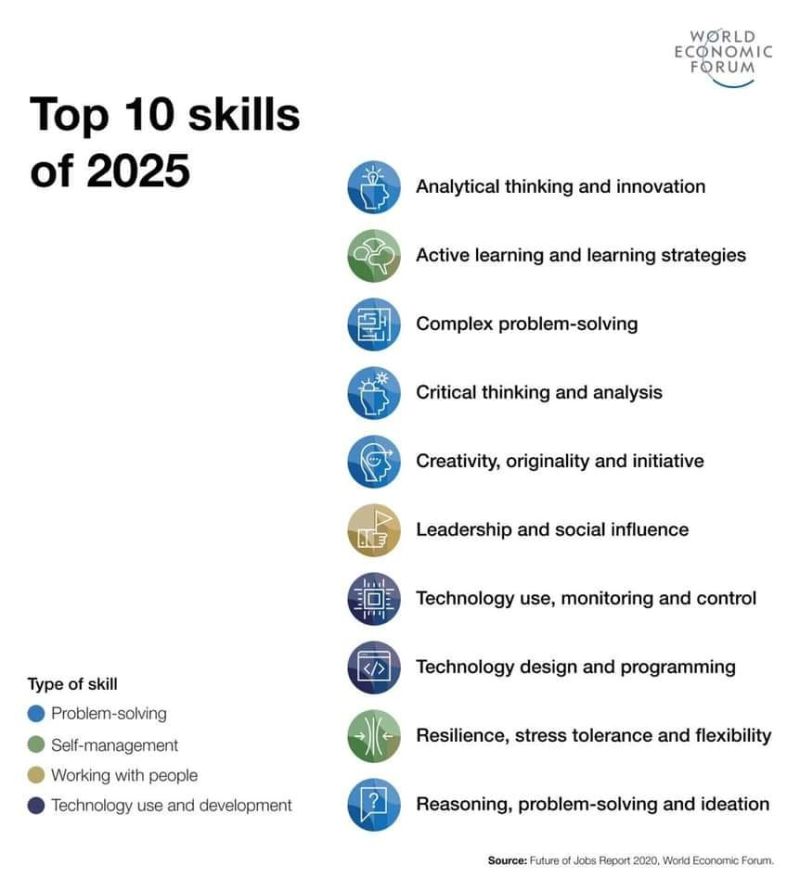 Key trends to implement: Reskilling, remote processes and productivity & well-being
1. The urgent need for reskilling
Following the double-disruption caused by the pandemic along with increasing automation, the report states that 50% of all workers will need to reskill by 2025. Companies estimate around 40% of workers will require reskilling of six months or less. But the technological disruption that drives this change also provides the tools to help employees learn new skills. Online learning platforms are on the rise and offer a convenient opportunity for tailor-made learning.
On average, employers expect to offer reskilling and upskilling to over 70% of their employees by 2025. Also, 66% of employers surveyed expect to get a return on investment in upskilling and reskilling within one year. 
2. Significant increase in online learning and training
Employers providing online learning opportunities to their staff has increased five-fold, while individuals seeking out opportunities through their own initiative has increased four-fold. Personal development and digital skills are the most in-demand courses. 
3. The shift to remote work
The increased shift to remote and hybrid work will continue. 84% of employers are set to digitalise working processes, including the shift to remote work with the potential to move up to 44% of their workforce to remote working. 
4. Productivity and well-being
A third of employers expect to actively address concerns about staff productivity and well-being in the shift to remote work by taking steps to create a sense of community, connection and belonging.

What can managers do to foster a growth mindset?
While there is growing pressure on managers to deliver more under these difficult circumstances, if they provide learning opportunities to staff while dangling a carrot and stick approach — offering reward and punishment to induce learning — this will not be successful. To show impact, learning needs a holistic approach and a smart strategy. Businesses doing it right will be ahead of the curve.
Tips for managers 
Build a

learning culture

and foster a team learning spirit

Create the environment in which learning can take place and is prioritised; this includes the right digital infrastructure that integrates learning into daily work

Give your employees space and time to implement their learning during the working week

Make sure learning is in line with their professional development

Reward and acknowledge progress
Learn with them! Don't just say they need to learn, be a part of the learning team
What can employees do to foster a growth mindset?
If your company does not provide formal opportunities to learn, it does not mean that you cannot take the initiative yourself. Ask yourself the following questions:
Are you aware of your strengths and development areas? Have you done a 360 feedback? If not, ask for feedback from your line manager and a few colleagues on what  your top skills / strengths are. In which areas do you need to develop further?

Make a learning and development plan, what skills do you need to learn?

How do you learn best? Do you prefer video, audio, or reading? Do you like to take notes on an app or by hand? Do a learning style assessment.

What different resources can you use? There are so many learning opportunities today. Keep it simple, but be consistent.

Block time in your calendar to learn. Can you wake up earlier? Can you block some time on the weekend? Whatever you do, be consistent with your learning schedule.

Reflect and evaluate your learning. What impact does this have on you / your work? How can you implement it? Do a reflection at the end of a week and end of a month.

Life happens. How can you stay accountable? Do you need a learning buddy? A coach? Have you set deadlines? Do you share your learnings with someone?
Preparing for a new world of work
It is clear that technology and digitalisation are rapidly leading to a new world of work. Therefore, it is crucial that leaders take action now to acquire skills for the future, be prepared and actively shape the inevitable transformation of the workforce. At EUNEPA Learning, we offer tailor-made learning programmes with an Accountability-Impact-Sustainability approach to reach company and individual learning goals and address reskilling and upskilling needs for the future workplace.
Bonus offer: Sign up for a free demo for the EUNEPA Learning platform and receive a package of five leadership modules — no commitment needed, just pure learning!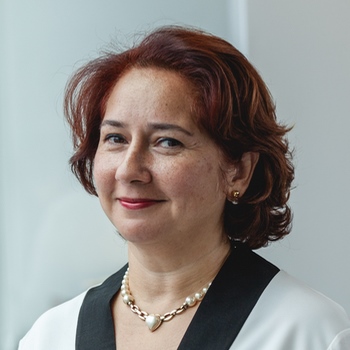 Dr. Pari Namazie | Managing Partner
Pari is a global executive coach, consultant and facilitator with over 25 years of experience. She works as a trusted advisor to leaders, teams and organisations in the fields of leadership, team development, strategy and organisational improvement. Read more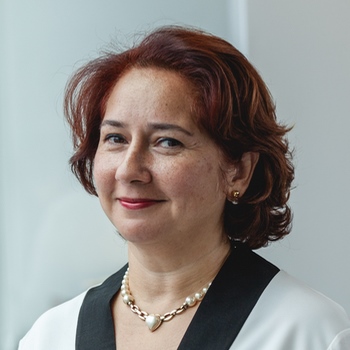 Dr. Pari Namazie
Pari is a global executive coach, consultant and facilitator with over 25 years of experience. She works as a trusted advisor to leaders, teams and organisations in the fields of leadership, team development, strategy and organisational improvement. Read more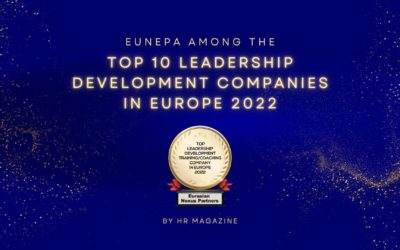 We are thrilled to announce that EUNEPA has been selected as one of the Top 10 Leadership Development Training / Coaching Companies in Europe 2022 by Manage HR Magazine.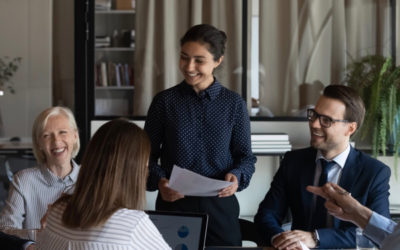 Implementing any strategy or goals begins by sharing it with your team members, who will be the people executing it — this means it begins by creating team alignment.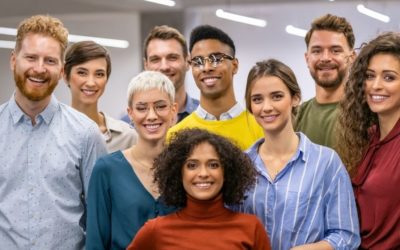 What makes you attractive enough to the next generation of employees? Here are 7 best practices to attract and retain the new generation.
Sign up to receive the Eunepa Quarterly.